Property Maintenance You Can Trust
Chain-link fence systems are the fence of choice for many homeowners:
It is the most affordable fence and provides durability, security and beauty.


Can be constructed in several combinations:

Galvanized steel fabric on a galvanized steel frame
Polyvinyl Chloride (PVC) coated steel fabric on galvanized steel frame.
PVC coated steel fabric on a polyester powder coated galvanized steel frame.



The galvanized steel frame is zinc coated which provides years of maintenance free protection.


The thermally applied polyester powder coating on the galvanized steel frame comes in a variety of colors including black, brown , green or galvanized.


All galvanized fabric has an extruded PVC coating for dual protection from corrosion.
Wrought iron fencing is among the more effective security fencing available. It's nearly impossible to tear down and a tall wrought iron fence with sharp cap posts are also nearly impossible to scale. As with many home security issues, a resourceful, determined intruder can still find a way to get into your property, but, most likely, he or she will move on to the next house.
Wrought iron fences are, by nature, custom made. They require a meticulous, complex installation process that should be handled by a specialized fencing contractor.
Traditional Series (Residential)
Specifications:
Diamond Pickets: 12.5mm x 12.5mm (½" x ½")
Posts: 51mm x 51mm (2″ x 2″)
Post Flanges: 76mm x 152 mm (3″ x 6″)
Rails: 25mm x 25mm (1″ x 1″)
Fittings: stamp forged factory finished
Options:
Pinched Picket Tops: Arrow, Maple Leaf or Fleur De Lis
Post Caps: Pyramid, Ball or Spire
Styles:
Royal Eagle
Elegant Eagle
Majestic Eagle
Imperial Eagle
Silver Eagle
American Eagle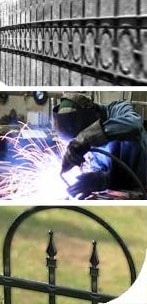 Manufacturing Process and Materials
Raw Materials
All Iron Eagle fences (excluding Iron Eagle II Aluminum Series) are made from Galvalume™. Galvalume™ is a coated steel product, which offers the barrier protection and extended durability of aluminum and the galvanic protection of zinc. The Galvalume™ coating is an alloy composed of 55% aluminum, 43.4% zinc and 1.6% silicon. The result is a highly corrosion resistant coated steel, which offers:
Twice the corrosion resistance of traditional galvanized coatings.
A distinctive appearance with a smooth silvery metallic finish, which makes the product ideal for our painting application.
High temperature resistance.
Galvalume™ is a registered trademark of Dofasco Inc.
Manufacturing Process
All our fence panels are fully welded using stainless steel wire to ensure the highest quality and resistance to atmospheric conditions. All welds are strategically placed facing downwards so as to avoid water settling on the welds. The product is designed so that water flows through the product, ensuring that water damage does not occur.
Coating Process
All of our products are coated with a polyester powder coating that is an organic, thermosetting plastic finish for steel, with a high resistance to abrasion and superior colour gloss retention. The coating is electrostatically applied to ensure proper coverage and then it is baked on at a high temperature. Compared to conventional wet paint, our coating provides a maintenance free solution.
Why should you go with us?
Get your free estimate today...
Get a free estimate! Call us or complete our contact form to get started.